Biography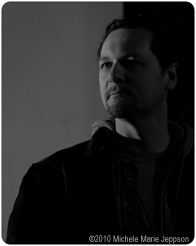 Randin Graves is an award-winning film composer and Fulbright fellow with diverse influences and skills, delivering popular (and very unusual) genres of film and television music from his professional home studio. Equally at home in classical and pop music worlds, he holds a B.A. cum laude in music composition from the well-regarded new music program at the University of California at San Diego, and has played in rock, electronica, folk, reggae, funk, jazz and world fusion bands. He plays guitar, keyboards, the Japanese koto, and is world renowned as an expert on the Australian didgeridoo, having sold CDs and influenced players on every continent - including Antarctica.
His work has appeared on countless CDs & film scores, a video game, theatre and dance performances and a children's education website. He currently works primarily on films but is open to any creative projects.
Auto
biography
I've been a composer for twenty years, since scoring a high school theatrical production of Medea back home in Del Mar, California. I've done a wide variety of work and released many CDs of my music since then, but am now dedicated to composition for film, television, games, theatre, the web... and any other interesting media that develop. I look forward to engaging in professional and creatively fulfilling collaborations and using my strong narrative sensibility and diverse experience in classical, avant garde, pop/rock, electronic and world music to make a unique contribution to the crowded world of film scoring.
After creating my first works for theatre and video while in high school as a self-taught musician, I was one of five students selected statewide for the California State Summer School for the Arts music composition program in 1991. I earned a B.A. cum laude in music composition from the highly regarded new music department at the University of California at San Diego in 1996.
Throughout those early years, I played in bands of many genres; electronica, classic, psychedelic & art rock, progressive jazz, reggae. At UCSD I studied extended vocal techniques, the Japanese koto and the Australian didjeridu. I then focused on world music with didjeridu through my own Ginger Root Records, and in 2003 won a Fulbright Fellowship to undertake a master's degree with a project on the didjeridu and relocated to Yirrkala, a remote Aboriginal community in Australia's Northern Territory.
In 2007, I launched the Mulka Project multimedia training centre in Yirrkala, working in all aspects of filmmaking and audio recording with Aboriginal People and networking with Australian film professionals. Through this I began my first serious film scoring in many years and felt all my experience coming together for a purpose. Finding myself back in the USA in 2009, I am dedicated to full time film composition for film and other media.
And
Now
I've been doing a lot more live music work lately as a guitarist and didgeridoo player, but I'm most definitely still a film composer. I have a couple of projects on the docket for 2018 but have plenty of time for more. Tell me what's next!
Musical
Styles
• Orchestral
• Atmospheric
• Electronica
• World
• Rock
Instrumental Expertise
• Real Orchestration or Realistic Orchestral Simulation
• Guitars - Steel 6&12-String, Baritone & Nylon string Acoustic, Electric, Electric Fretless, Electric Bass
• Australian Didgeridoo
• Japanese Koto
• Various Ethnic Winds & Percussion
• Voice - Baritone, Extended Vocal Techniques
• Anything Synthesized or Sampled
Composing For
• Film
• Video
• Television
• Multimedia