Happy Holidays and New Year,

Fans & Filmmaker Friends!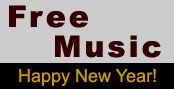 It was a slower year in film music for me as I was busier with didgeridoo work and MY NEW BAND, but there was enough to put together this, my 6th annual free compilation album. To celebrate the year, I've put together a favorite cue or two from each film that I scored this year. There's everything from inspirational to horror, Rocky Horror knock-off to quirkly comedy.
Just to be clear, these aren't for you to use in projects, but to listen to and hopefully get some inspiration from. Enjoy, and I look forward to working with you all in the new year!
Included Tracks:
Model Citizens - Conclusion and End Titles - Driving and inspirational music for fretless electric guitar, acoustic guitars, bass, electronics and orchestra from Sara Kelly's feature documentary.
Last Hope - Excerpts - Gamelan, synth and strings from Chris Adler's drama short.
The Rezvani Beast - Big modern orchestra, synth and electric guitars made for a supercar promo video.
Reflections - Running from Reflections - from Graham Lee's short film, ambient sustainer guitar and melancholy piano are taken over by aggressive percussion.
Reflections - Facing Reflections - Sustainer guitars, piano, synth and strings build up to the emotional climax of Graham Lee's short film.
Adopting Trouble - Childless - Emotional piano, synth and strings from Lee Gardner's comedy feature.
Adopting Trouble - A Superhero Moment - Channeling John Williams for a scene from Lee Gardner's comedy feature.
Adopting Trouble - Lamaze - Some circusy silliness from Lee Gardner's comedy feature.
Lonely Night - Excerpts - Channeling Bernard Herrmann for the Gibbs Brothers suspense short.
Killer on the Loose - Excerpts - Orchestra and synth horror from Michael Ballif's short film.
Princess - Excerpts - Music box, choir, synth and orchestra make up the creep for James Morris' horror short.
Metronome excerpts - Suspenseful drama from Gabriel Saenz' web series.
Living with Rocky - Opening - Some instrumental music in the style of Rocky Horror for Mario DeAngelis' documentary short.
Check Now - Conclusion & End Titles - A little dreamy stoner music leads the way into some funk for the end of Mark Davis' comedy short.
Congratulations and my thanks to everyone involved in the films above, and here's to bigger and better in 2016!!!