Happy Holidays and New Year,

Fans & Filmmaker Friends!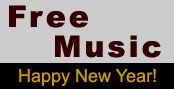 My annual compilation album is in its 5th year! To celebrate this productive year for all of us, I've put together an album of a favorite cue or two from each film that I scored this year or that picked up awards or nominations this year, plus some extra demos. There's everything from orchestra to rock, from electronica to Japanese koto.
Just to be clear, these aren't for you to use in projects, but to listen to and hopefully get some inspiration from. Enjoy, and I look forward to working with you all in the new year!
Included Tracks:
LARP Teaser - a big dramatic intro, from a teaser for an in-development feature film
Secrets of the West theme - classic sweeping orchestral drama and western grandeur from James Cawley's documentary film
Zachary Zipper sketch - dramatic and bittersweet orchestral demo
Of Course I Forgive You - from Lonzo Liggins' comedy feature Stop Pepper Palmer - Winner, Platinum Remi for Comedy and Special Jury Award for Supporting Actor, Worldfest Houston; Winner, Best Comedy, Trinidad Film Festival
Going Through the Motions excerpts - heartbreaking and suspenseful dramatic contemporary strings and synth from Neil Vanderpool's ner-noir short
Entitled to Life excerpt - emotional effected piano from Paul Gibbs' healthcare documentary
Ruby excerpt - dark texture and tortured mandolin from Chris Adler's horror short - Winner, Best Score & Best Acting, 2014 Demon Chaser Film Challenge
Hardwood sketch - a creepy orchestral horror demo
Metronome excerpts - suspenseful drama from Gabriel Saenz' web series
The Holly King excerpt - orchestral Christmas horror from Scot Michael Walker's short film
Shadows in the Night excerpts - synth creep from the EME Productions horror short
Ono Opening - the dramatic and eerie opening to Chris Adler's drama short
Ono End Title - the sweet and dreamy ending to Chris Adler's drama short
One Last Sin excerpts - desi-inspired drama and beats from Ubaid Seth's suspenseful parable
Landscape excerpts - themes for a psychotic lawn gnome from Paul & Patrick Gibbs' horror-comedy
The Rockin' Reverend Rises - instrumental rock for a sermon from Scot Michael Walker's feature dramedy - Winner, Best Feature, Fort Worth Indie Film Showcase
The Pains of Sharing Twin Balls excerpts - from the Jamie Kang comedy
The Third Wheel excerpts - quirky comedy from Sahand Nikoukar's short film
Between Frames full score - ambient synth, guitars and jazzy folk rock from Aleisha Paspuel's modern dance film - 2nd place, Utah Dance Film Festival
Magic Man from Cowboy Hustle - Japanese koto magically gives way to 70s western guitars, from Tom Carrera's era-bending film
The Eye of the 70s Western Samurai Tiger from Cowboy Hustle - training montage from a 70s buddy cop time traveling samurai western
Salmon Social trailer - inspirational rock and synth score to a documentary film trailer
Salmon Social app theme - synth & strings from a commercial spot
Salmon Social kickstarter jam - just something I did for fun based on background music I did for a promo video
A Dark Teaser - a bit of spooky synth-rock
Ring of Fire - a modern and romantic cover of the classic tune
Congratulations and my thanks to everyone involved in the films above, and here's to bigger and better in 2015!!!