Happy Holidays and New Year,

Fans & Filmmaker Friends!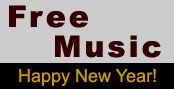 I got great response to this the past two years, so here we go again. To celebrate this productive year for all of us, I've put together an album of a favorite cue from each film I scored this year, highlighting award-winners along the way. There's everything from orchestra to 1970s rock, from heavy metal to church organ (in the same cue!).
Just to be clear, these aren't for you to use in projects, but to listen to and hopefully get some inspiration from. Enjoy, and I look forward to working with you all in the new year!
Included Tracks:
Turning Points - Morricone-influenced western action from Graham Lee's debut feature All Roads Lead to Occidental.
Super Awesome Fantabulous Costume Crazy Hat Party - Party music morphs into the love theme from Jack Graham & Twisted Arrow Productions' horror/psychological drama feature Jake' Dead; Winner, Best Feature Soundtrack, 2012 Action on Film International Film Festival.
The Wrath of the Rich & Righteous - Church organ fire and heavy metal brimstone from Scot Michael Walker's feature comedy Rockin' Reverend.
End Titles - Children of the Stars - Fun electronic music that closes out Bill Perrine's documentary on a UFO/Self Help cult.
Make it Fast This Time - Hardcore orchestral/metal action from Brad Johnson's period short Hellespont; Winner, Best Guerilla Short & runner up, Best Supporting Actor (Danny James), 2012 Action on Film International Film Festival.
Main Titles - Prisoner 501 - Percussive orchestral drama from Darren Scott's drama short.
Offing Adolph - excerpts - Epic sci-fi silliness from writer-director Eric Fisher's time travel comedy; nominated, Best Original Score, 2012 Filmed in Utah Awards.
Spider & Fly - Full Score - A blatant Blade Runner rip off for Oliver Smith's short comedy from the UK; finalist, Reed.co.uk short film competition.
End Titles - For I have Sinned - Emotional electronic music conclusion to the Zarifi/Rao short film.
End Titles - Remember - spooky tones building to ominous rock for the James Brothers short film; nominated, Best Dialog & Best Editing - Short, 2012 Action on Film International Film Festival.
Conclusion & End Titles - Aloneliness - Ethereal bliss and sentimental rock concludes Sid Bodalia's psychological thriller short; Winner, Best Student Film, 2012 Buffalo Niagara Film Festival; Winner, Best Actress, 2012 Angeleno Film Festival; Golden Ace Award Winner, 2012 Las Vegas Film Festival.
Spirituality and the Artistic Mind - Emotional miminalism-influenced music from Paul Larsen's documentary feature Spirituality?
Norma - Folky love theme from Paul Larsen's documentary feature The Wizard of Fos.
Main Titles - It Didn't Have to Be Like This - Rom-com sweetness that opens Mariam Kanji's short film; Winner, Best Music, 2012 Arab Film Studio Competition.
Spirit Squad - full score - A trip to the 1970's courtesy of Thom Rockwell's crime fighting cheerleaders.
Main Titles - Y's Guys - The opening of actor Shane Brolly's directorial debut, a mob comedy.
Fight! - Action from the Gibbs Brothers' comedy short The Book Club.
Celestina to the Rescue - Classic orchestral action and sweeping themes from the Gibbs Brothers' Steve from Accounting vs. the Shadow Dwellers - Winner, Audience Choice, Nominated, Best Score, Salty Horror International Film Festival 2012.
Waiting is the Hardest Part - Bittersweet ambient conclusion to AFI fellow Kevin Lacy's sci-fi drama Oxygen.
Congratulations and my thanks to everyone involved in the films above, and here's to bigger and better in 2013!!!